...Providing tile industry training tools* as well as classroom educational resources at all levels for a broader understanding of the role of tile making as a ceramic medium and as an important American industry from the 1880's through the present time
READ MORE ....
AWARDED "Best Mural" in International category for Precita Eyes Mural Center Awards, San Francisco, CA Title: "Spirits and Folklore of Ghana"
A community project in partnership with Cross Cultural Collaborative, Inc. Facilitated by: Laurel True with Lillian Sizemore, and Anna Webb with participation by community members of Nungua, Ghana Completed: July 2004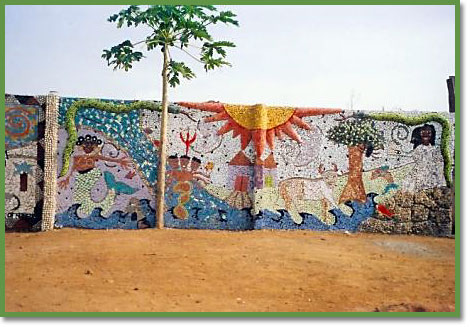 Sited at: Aba House Cultural Center, Nungua, Ghana, West Africa Dimensions: 22 feet wide x 6.5 feet high (143 sq. feet) Materials: Ceramic tile, mirror, pebbles, seashells, glass, and mixed media.
READ MORE ....